The High Performance program is designed for competitive junior tournament players who have aspirations of playing college or even professional tennis, and have the commitment to undergo the rigors of a player development program.
Our goal is to create a culture that will provide athletic development, foster mental toughness, and create champions for life on and off the court. Providing players with structured match play and intense tennis practice is our next step in building a comprehensive pathway and solid foundation for junior players.
UTR Requirements & Adjustments 
A minimum UTR is required for play in the High Performance A & B programs. Players without a confirmed UTR may use a projected UTR for placement however a .5 deduction will be made.
Pro Admit (High Performance A & B)
The High Performance program is for tournament players and a UTR is required of all players. As of 9/1/21 – Pro Admits will only be given for players who have a qualifying UTR with regards to placement within the HP program between programs.  
Session Auto Renew
The IRC High Performance program is intended to be a year round program. Due to the year round nature and the additional requirements for admittance, as a courtesy – all players will be auto renewed into Session 2, 3 and 4 play based on their Session 1 registration with the exception of players without a UTR register via a pro admit. Auto renew does not apply to Summer 2022 play.
Please note: Future session locations or UTR requirements may be adjusted as registration requires.
Upcoming Sessions Include:
-Session 3: January 3 – March 12, 2022
-Session 4: March 14- May 22, 2022
Program Withdrawal
If a player wishes to withdraw from an upcoming session, they must contact Member Services by email (irc@indyracquet.com) at least 7 days before the start of the new session. This includes withdrawals due to school tennis or other sport commitments. Players who have withdrawn but wish to rejoin the program or wish to register after a session has started will be considered on an individual basis and only if space is available.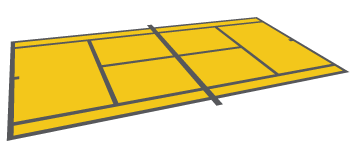 Court Size
78' Court. 3' Center Net Height.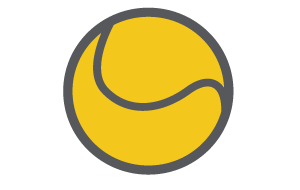 Tennis Ball
Standard felt tennis ball.
Racquet
26"-27" racquet
See time and dates for this clinic next session.
High Performance - Session 2 (October 18 - December 19, 2021)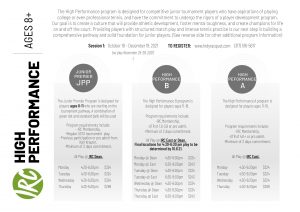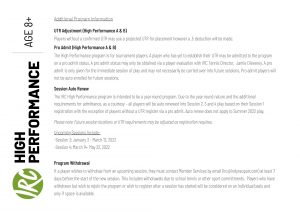 High Performance - Season 3 (January 3 - March 12, 2022)