Racquet Stringing
On-Site stringing 7 Days a Week
Expert Stringing
---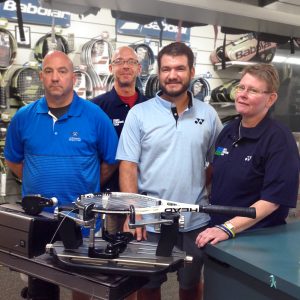 Trust the professionals at IRC to keep you playing at your best.  Our expert stringing staff is available 7 days a week at our Dean Road location.  Our stringing staff is led by 4 full-time USRSA (United States Racquet Stringers Association) certified Master Racquet Technicians.
Open to the Public – 7 days a week
2-Day Normal Turnaround
Frequent Stringer Discount Program
Tennis, Racquetball, Squash, or Badminton
The Midwest's Largest String Assortment
All racquets are strung within 2 business days, with most special requests honored.  We do ask that you arrange a time for pick up during normal pro shop hours.  Our stringing staff can tune up your racquet, including grip replacement, grip build-up, head guard and/or grommet replacement, and racquet weighting adjustments.  In addition, we can address your technical questions and make recommendations best-suited to your game.
When do I restring?
---
Just because your strings aren't broken doesn't mean they shouldn't be replaced.  Over time, strings will lose their intended playing properties.
Your racquet should be strung as many times a year as you play in a week. 

If you play tennis 2 times a week, then your racquet should be restrung at least 2 times a year.

When you feel you have lost control of your shot. 

As the tension in your racquet decreases, the result is more power and loss of control, often referred to as the "trampoline effect".  If you notice your shots consistently being hit long; your strings have become too loose and your racquet should be restrung.

When your strings look frayed or worn.

Strings break down due to friction caused when they more over each other.  Get your racquet restrung before they break during a big match.
Still not sure?  Let one of our expert stringers help you make the right choice and keep you playing at the top of your game.
Frequent Stringer Program
---
Frequent Stringer Punch Card
All players can take advantage of our Frequent Stringer Program.
Restring a racquet, receive a punch.  Restring your racquet with the IRC Pro Shops five times and receive up to a $35 credit towards your next stringing.
As an added bonus, there is not time limit for, or expiration of, your stringing credit.
*Excludes labor only stringing.
String Selection
---
The IRC Pro Shops carry over 200 varieties of string from the most well-known and reputable manufacturers.  Consult with our stringing staff to select the string best suited for your game.